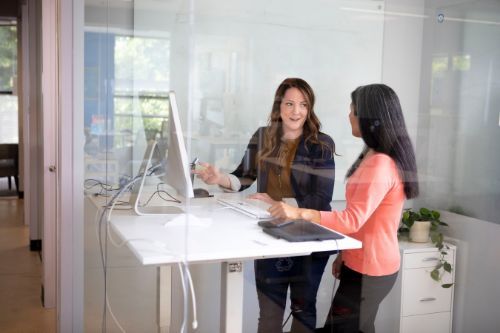 Your business's website is the perfect launching pad for enticing potential customers through the power of your own voice—with blogging. That's because content marketing means establishing your business and your leaders as experts in your field. Sure, staring at a blank page is daunting when you don't know what to write about. But luckily, we've got you covered. Check out these five content ideas for your next blog.
1. Share a Success Story
One customer's success story sparks a world of ideas for your potential customers. When they see the wins you've already achieved for somebody, they start to picture what that could mean for your partnership with them. Think of some of your business's top success stories and put them down on paper. Include tangible results that will easily resonate with your audience. Don't forget to ask for permission to include quotes or names from your current customers championing their wins.
2. Talk About Products or Services
Sometimes you need more space than a product description page can give you. Use a blog post to go into more detail about the products and services your business offers. Or, maybe one of your products has a cool feature that you've never been able to talk about in-depth. Think about where you'd wished you had more room to elaborate in the past and get to writing.
 
3. Tell Your Origin Story
By now you probably know that many successful businesses were started in a garage: Apple, Disney and Amazon, to name a few. All of that goes to show that every business starts somewhere. What about your business? Use a blog post to detail why your business was started, where you came from and what your business stands for. This is an opportunity for you to create an emotional connection with your audience. This type of blog post will help to humanize your business. 
4. Address Frequently Asked Questions
There's a reason they're called "frequently" asked questions. Think about the questions your business receives time and time again. Then, use a blog post to develop thoughtful answers to those questions. Plus, this will make your job easier since customers will be able to find answers on their own. This helps drive truly qualified inquiries on the forms on your website, because hopefully your potential customers will have done some digging. 
5. Unveil New/Seasonal Offerings
'Tis the season for a blog post around seasonal items. These last three months of the year always fly by, and with it comes the opportunity to promote seasonal offerings. Sure, you'll want these new or seasonal product offerings up on your normal products or services page, but think of this blog post as an announcement to go more in-depth as to what you're offering and the why behind it. 
Now it's time to get out there and put the pen to paper… or more likely keyboard to blank document! Remember that consistency is key. As long as you're writing from the heart and thinking from your potential customer's point of view, you'll have no problem with these five easy blogging ideas.