Products
CUSTOM SIGNS AND PROJECTS
From artistic concept to installation. . . . let our creative team provide a solution for your "wall"!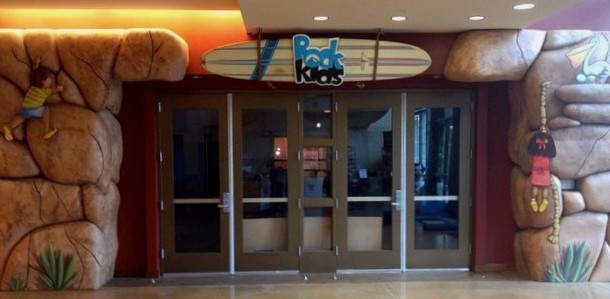 An artistic solution to an entry wall
| | | |
| --- | --- | --- |
| An artistic rendition of the "rock wall" to be construction with architectural foam. | Our foam fabricator used the artistic rendition to create these architectural quality foam rocks with a protective concrete overlay. | The art and foam rocks were designed to custom fit these walls. |
| A custom sign was created from 3-D letters mounted to a surfboard to match the artwork approved by Rock Church. | Walls were custom painted to match the rendering from which they were designed and fabricated. | Contour cut and custom painted PVC characters are added to the wall. |
| This custom project is the entry which welcomes children to their Sunday School classrooms. | From design to creation--the wall is now a welcome entry way. | Artist rendering was scanned and enlarged to enable us to install the replica on the interior walls of the registration area. |
Great Signs--From Design to Installation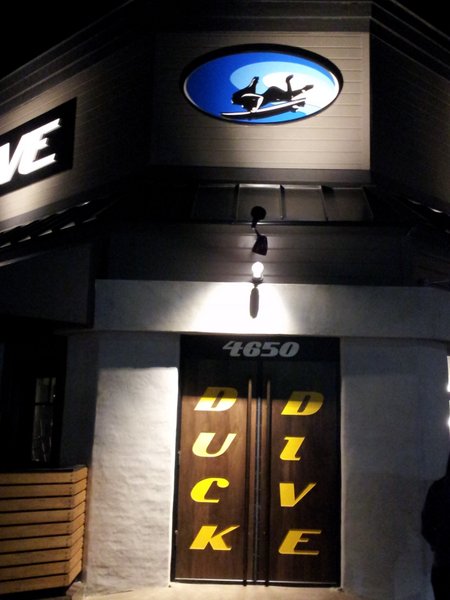 The Duck Dive
| | | |
| --- | --- | --- |
| Photo taken prior to restaurant remodel and sign installation | Logo design prepped for fabrication process | Logo is contour cut from wood panels prior to sending to Mathews Paint certified facility. |
| | Sign is pieced together prior to installation | Sign pattern placed prior to installation |
| Logo and letters installed on restaurant walls | | |
| | | |
Barrel Republic -- Custom painted, Illuminated "push through" signs
Sign Distinction was selected by the Barrel Republic tap room in Pacific Beach to provide custom, unique signage for their new "Freedom to Pour" beer tasting bar. (http://barrelrepublic.com/)
Signs were designed from the Barrel Republic logo, fabricated from router cut aluminum with push through acrylic letters and custom painted to achieve an authentic antiqued look.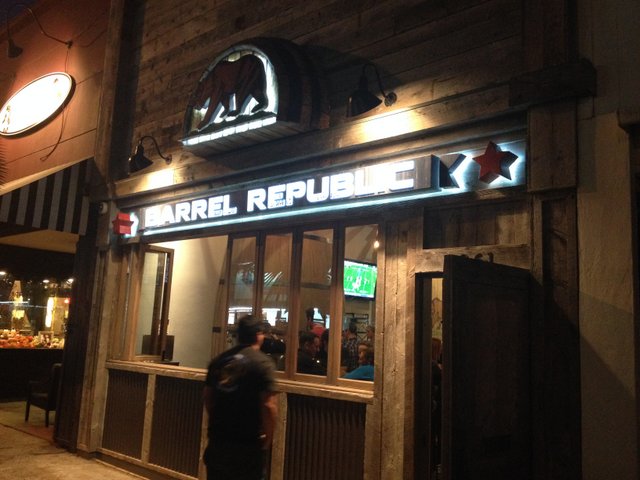 Illuminated Push Through Letter Signage
| | | |
| --- | --- | --- |
| | Mockup of outdoor sign provided to client. | LED strips were installed onto back of distressed wood panels to back light the sign. |
| Back lit sign panels using LED strips. Panels were to be custom painted after installation. | Our muralist custom painted the Barrel Republic bear logo onto the backlit sign panels. | Views of the process.....router cut, custom painted aluminum with 1" acrylic letters pushed through. |
| Push through letter sign and fabricated foam barrel with halo lit logo was mounted to exterior wall. | | |
Detailed Custom Signage--Corporate Timelines
ACI Health Benefits provided a corporate timeline from which we custom fabricated letters, logo and "boxes" onto which digitally printed images of their corporate history were mounted.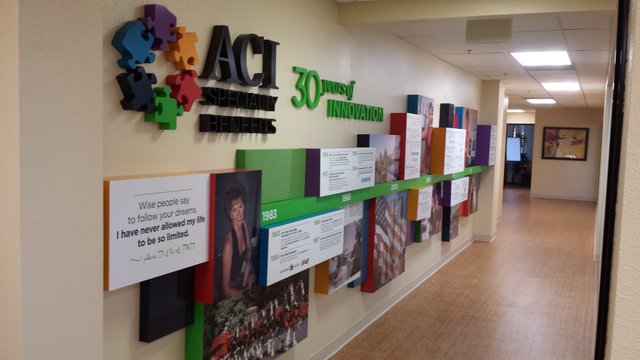 ACI Specialty Benefits
| | | |
| --- | --- | --- |
| Artwork provided by design team. | Pattern setup for letters and logo. A total of 22 custom boxes of varied sizes were fabricated for the wall. | Installation of 2" thick acrylic letters and logo. |
| Installation of custom boxes for corporate timeline. | ACI Specialty Benefits--corporate timeline installation. | Corporate timeline complete! |
| | | |
TrellisWare Technologies selected Sign Distinction to fabricate their corporate timeline along with other specialty projects.
The work involved with this project included designing the method of installation for this wall and their equipment.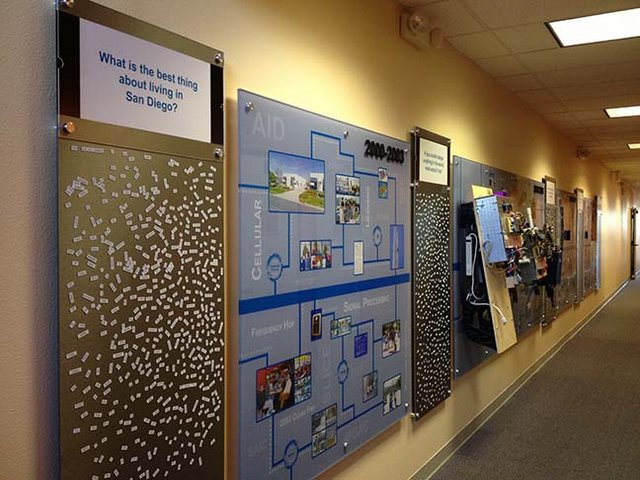 TrellisWare Technologies Corporate Timeline
| | | |
| --- | --- | --- |
| Design provided by TrellisWare. | Black acrylic with magnetized metal sheet--panels are mounted to wall using standoff system. | Timeline panel installation using standoff systems and custom cut acrylic to hold equipment. |
| Custom timeline panels with second surface digitally printed vinyl. | Finished TrellisWare Technologies timeline. | |