References
Quicken Loans Carrier Classic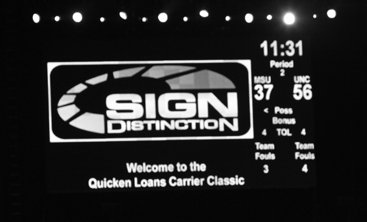 It was a great pleasure working with you and everyone at Sign Distinction in connection with the 2011 Quicken Loans Carrier Classic.
Our client, Morale Entertainment only contracted with you 21 days before the Event, yet you took charge, handled each and every request with professionalism and creatively solved many of the problems caused by the short time frame in which to design and completed a graphics and way-finding program.
Pete, we have successfully managed and promoted over 3521 events attended by 82+million spectators.
We have worked in 5 continents and 18 countries. We know what it takes to assemble a professional organization and deliver a first rate product.
But no one had ever added the challenge of hosting an NCAA Men's basketball game on an active aircraft carrier on live tv !!
But everyone was up to the task and the reviews are just spectacular.
You and your Team competed at the highest level and should be proud of the fine work you accomplished.
I hope to have the opportunity to work with you again and will spread the word in our event management world about your fine work.
Michael R. Rowe
President & Chief Executive Officer
Positive Impact
www.positiveimpact.net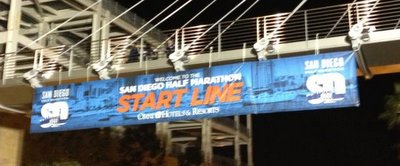 San Diego Half Marathon & 5K
Dear Pete, Javier, and team:
With another San Diego Half Marathon & 5K event behind us, we wanted to take a moment to thank you for the incredible work that Sign Distinction provided for our race signage.
Thank you for all the attention to detail in making sure that the 120+ new signs we ordered for the Expo, Race Course and Celebrate San Diego event were all completed on time and exactly to spec. Keeping everything straight was no small feat, so we appreciated that you followed our matrix so carefully and closely, even with artwork coming later than expected. And , the quality of signs was excellent, helping to make our and event look professional and consistently branded.
We truly value your partnership, commitment to excellence and shared desire to serve our community.
We look forward to working with you for many more years.
Sincerely,
Rachel Cross
Marketing Director
San Diego Half Marathon & Mammoth Half Marathon
Help Our Military Heroes and Team Red White and Blue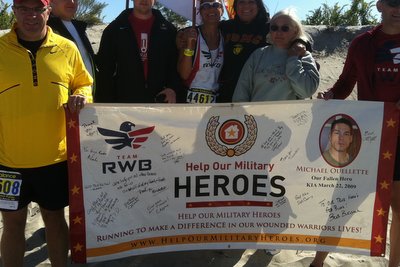 Dear Pete,
We wanted to thank you and the Sign Distinction team for the amazing artwork & quality of both the USMA at West Point Class of 2012 and our military charity, Help Our Military Heroes banners!
The banners created for this past September 11, 2011 for our military charities heading to the SuperFrog triathlon were very important to us, as we remembered so many lost & injured since 2001.
Our banners provided the perfect backdrop for our TV interviews, race day award recognition and our memorial to our Fallen Marine
The banners have been displayed at race events since 9-11-11 in New Hampshire, Pennsylvania, Washington, D.C., Virginia & Maryland! 2012 will be very busy, as well!
Working from Connecticut and New York, we felt like the cadets & I were sitting in your San Diego office with you as our finished banners were more beautiful than we imagined! Your commitment to find the best product for our budgets was delivered as promised. Working with Sign Distinction has been such a refreshing opportunity in business done with the highest level of integrity & honesty!
Continued success!
Laurie Hollander
Help our Military Heroes
President & Founder
Member & Athlete, TeamRWB